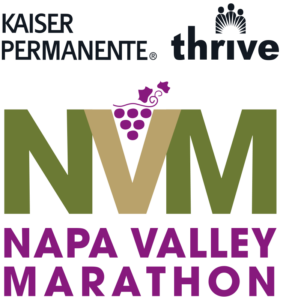 FOR IMMEDIATE RELEASE:
Contact: Marita A. Dorenbecher
June 24, 2020
(707) 944-1373, (707) 738-7672
[email protected]
A Report to the Community of Kaiser Permanente Napa Valley Marathon's Annual Philanthropy
NAPA, California, June 24, 2020 – Since its founding in 1979, The Napa Valley Marathon has had, as one if its missions, to support charitable causes throughout the Napa Valley.  The marathon is also a non-profit, donating hundreds of thousands of dollars over the years back into the local community.. The Marathon does this in a variety of ways, but one of the most prominent is through a yearly scholarship program.  The NVM Committee has provided over $100,000 in scholarships over the last decade to high school seniors throughout the valley.
Each year, fourteen scholarships of up to $1,000.00 are awarded. The Napa Valley Marathon selects scholarship recipients who demonstrate community involvement, volunteerism, scholastic achievement, and extra-curricular participation during high school. In 2019, $13,500 in scholarships from the March race were distributed to students from High Schools from all over the County. Funds from the 2020 Marathon will be distributed to student athletes in the Fall.
Added to the charitable giving program in late 2018, the Napa Valley Marathon earmarked more support toward two specific scholarships.  The Gard Leighton Memorial Scholarship ($1,000) is presented annually to a high school senior who demonstrates exceptional dedication to the sport of running and to the success of his or her team. The scholarship recipient is selected from the nominations put forth by high school running coaches.  The Jeff Glathe Memorial Scholarship ($1,000) is presented annually, awarded to the ADAPT program at Vintage High School.  The application of the scholarship funds will vary from year to year based on the needs of the students in this program. The 2021 application process closes on February 14, 2021.
The Napa Valley Marathon also gives back to the local community with donations to other non-profit organizations, high schools, sports teams, and service based groups. $11,800 was generated for the Kiwanis Club through their named 5k.  $5,000 was donated to Crosswalk to honor their commitment from the Napa Wildfires; $7,000 was donated to the Napa Food Bank; and roughly $6000 in donations went to the school and volunteer groups that helped at the race.
Board President, Doctor Jim Cotter said, "Especially this year with the challenges we all face, and the needs in the Community; supporting students and the Food Bank and other non-profit organizations has taken on a special urgency. We are happy to help where we can."
-30-
2020 was the 41st Annual Running and also represented 23 years of Kaiser Permanente's support of outstanding service to marathoners. Kaiser Permanente raised the bar in the arena of event medical support and became a trendsetter in doing so.
The Napa Valley Marathon is a member of the Road Runners Club of America and RunningUSA, the largest and most influential running-related organizations in the world.  Several times, the marathon has been host to the RRCA National Championships, Western Regional Championships, and has been voted best road race in the country.
Forbes Travel and American Express Departures Magazine have both declared the Napa Valley Marathon one of the "top marathons in the world worth traveling for."